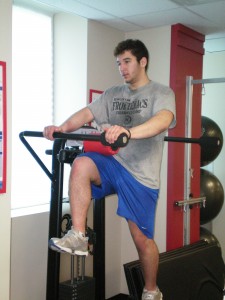 The SF Hockey Training program was developed allow hockey players access to the same unique, proven, science-based training protocols and equipment that we use for the sport of soccer.
Utilizing our background and expertise in sport-specific fitness training, as well as our relationships with some of the world's top exercise physiology and human performance laboratories, we have developed a training program engineered to the specific demands of the sport of hockey.  Our revolutionary SF Hockey Training protocols and equipment, including the one-of-a-kind Noramco HS Elite high speed running treadmill, will help to push a hockey player at any level to train at – or above- their present threshold.
Periodization is the process of breaking up athletic training into separate phases, each focusing on specific aspects of the overall training program.  Ultimately, the objective of high performance training is to improve athletic performance during competitions.  All sports, both individual and team, have either 1, or several, major competitions per year (individual sports – track and field, gymnastics) or a season with many competitions per year (team sports – soccer, hockey).   This part of an athletic training program is called the Competitive Phase. With SF Hockey Training, all other phases of training are structured around the athlete's Competitive Phase.  The competitive phase in youth hockey in Canada consists of approximately 24 weeks, from the middle / end of October to the end of March.  The entire 24-week off-season training period (May-October) is broken up into 4 separate 6-week training phases.  SF Hockey Training's' Treadmill, and Plyometric Training programs are all planned and periodized to fit into this 24-week off-season training period, and to facilitate optimal/peak physical fitness in time for the start of the competitive phase.
Athletes training under the supervision of a SF Hockey Fitness Trainer have the advantage of knowing that they are training with a purpose, and that they will only train those components of physical fitness which are relevant to their current phase of training / competition.
The SF Hockey Training Strength and Conditioning Training programs are all periodized with the ultimate aim of helping all athletes reach peak physical condition for the start of the outdoor season in October, as well as to help them maintain their physical fitness through to the end of the season in March.  In the charts below, we provide detail as to how the training programs are broken up, and how each cycle of training fits into the overall annual plan for the athlete: