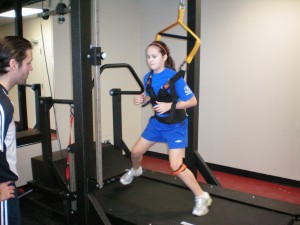 Soccer is an aerobic based sport, with frequent high intensity anaerobic bouts of speed and power.  It requires total body strength and coordination training, as well as flexibility, balance and agility.  The most important aspect of soccer fitness training, however, is that it involves using soccer-specific movement patterns, both with and without the ball.  Soccer Fitness Inc. prides itself on being leaders and innovators in developing training programs that stress physical ability combined with technical ball skills, as this is the most effective way to ensure that players will improve their actual physical performance in games.
Strength and conditioning for soccer is our specialty at Soccer Fitness.  In addition to having assembled the highest qualified training staff in the country, Soccer Fitness is the only strength and conditioning company in Canada to offer the latest and best soccer-specific testing, training and conditioning programs to all our Clients.
Utilizing our close relationships with the world's leading soccer-specific exercise science laboratories based in the greatest and most successful soccer clubs throughout Europe, as well as our affiliations with the only exercise physiology lab in Toronto currently conducting research on soccer players, we have developed comprehensive, scientifically tested and proven training methods and programs.  All of these programs are tailored to meet the needs of any individual athlete or team, regardless of age or ability.  Our clients can be assured that they are getting the best and the only strength and conditioning available which has been proven to improve fitness levels specific to the sport of soccer.
Our services are broken down into 2 main components:
On-Field Training

Strength and Conditioning Training in the Conditioning Room
On-Field Training is delivered through Team Training (for teams, done at the particular team's practice location) and the Power Running Series (programs for individuals, groups, and teams, done at pre-determined indoor locations at set intervals throughout the year).
Strength and Conditioning Training is delivered in the Soccer Fitness Training Centre.  There are three types of Strength and Conditioning Training provided at the Soccer Fitness Training Centre:
Functional Strength Training
Treadmill Training
Plyometric Training
Please continue reading our Services section for more information, and to choose the Soccer Fitness service that is right for you.