Soccer Fitness Inc. is excited to announce that we will be offering 2 new Services starting in June, 2011:
1. Soccer Fitness Boot Camp:
Open to adults of all ages and levels of athletic ability, the Soccer Fitness Boot Camp gives non-athletes the opportunity to train like an elite athlete, using all of the same state-of-the-art equipment and programming that has made Soccer Fitness the industry leader in sports performance training.  Utilizing custom-made Treadmill, Plyometric, and Strength Training exercises, the Soccer Fitness Boot Camp is guaranteed to help all participants lose weight, burn fat and improve strength, balance, and endurance.  Boot Camp classes start Monday, June 6, and will run Mondays, Wednesdays, and Fridays (10:00-11:00am) and Tuesdays, Thursdays (7:00-8:00pm).
(Click Here to learn more about the Soccer Fitness Boot Camp)
2. SF Hockey Training: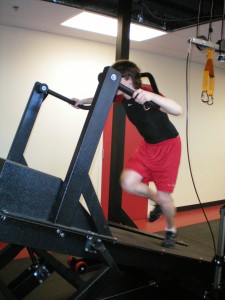 Soccer Fitness has adapted our Treadmill and Plyometric protocols to create a hockey-specific program geared towards maximizing both explosive speed and power, as well as anaerobic endurance in hockey players.  This one-of-a-kind training is only available in Canada at the Soccer Fitness Training Centre.  The combination of our exclusive equipment and programming, including the revolutionary Noramco HS Elite high speed running treadmill, allows us to push hockey players beyond their thresholds for speed, power and endurance in each and every training session.  SF Hockey Training programs will begin in June, and run throughout the off-season, concluding in October, 2011.